Our People
Transcending finite natural resources with unlimited human potential.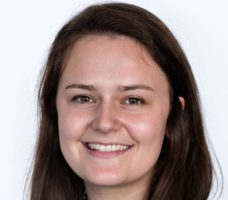 Kelly MacDonald
Associate
BIO
Kelly works extensively with EPA's Superfund Redevelopment Program (SRP). She authors Five-Year Reviews of remedies at Superfund sites, which includes reviewing documents, analyzing data and visiting sites to make sure remedies remain protective of public health and the environment. Kelly also manages and supports reuse planning projects, facilitating the return of formerly contaminated sites to reuse through research, stakeholder engagement, and plan development. Using ArcGIS, Kelly supports EPA SRP in mapmaking, data creation, and analysis, and she leads projects to develop new ways of understanding agency progress.
I BELIEVE…
Everyone should be able to live in a healthy, safe and sustainable community. We all deserve clean air, water, and soil where we live, work and play. I care about ensuring an equitable and prosperous future for all while treading lightly on our precious planet.
434-214-8128
ABOUT KELLY
In her free time, Kelly enjoys hiking, snowboarding, and live music.
EDUCATION
BA, Environmental Science and Global Development Studies
University of Virginia
Would You Like a Free Consultation?