Our People
Transcending finite natural resources with unlimited human potential.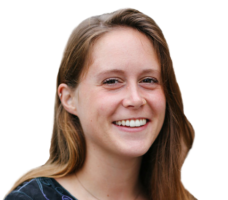 Claire Burke
Associate
BIO
Claire is a scientist and artist, bridging the gap between creative and analytical thinking. At Skeo, she employs her jack-of-all-trades skillset to create innovative solutions to complicated problems. She is particularly interested in making complex information accessible and visually compelling for diverse audiences. She is part of the company's mapping, research, content creation, design and project management efforts. By combining her skills, she hopes to create new modes of thinking and learning that promote awareness and resilience in our communities and natural spaces.
I BELIEVE…
Active listening is the most important skill a person can possess. To listen is to learn, to connect, to understand.
434-329-7853
ABOUT CLAIRE
Also known as Curb, outdoor enthusiast, event planner and playlist maker.
EDUCATION
BA, Environmental Science and Studio Art
University of Virginia
Would You Like a Free Consultation?